Configuring the Maude Development Tools.
Basic configuration.
Before you can run Maude, you have to specify some file paths. These are:
Maude binary file.
Full Maude file.
The directory where the log file will be stored.
These options are explained in more detail below.

View of the basic preferences in a Windows XP system.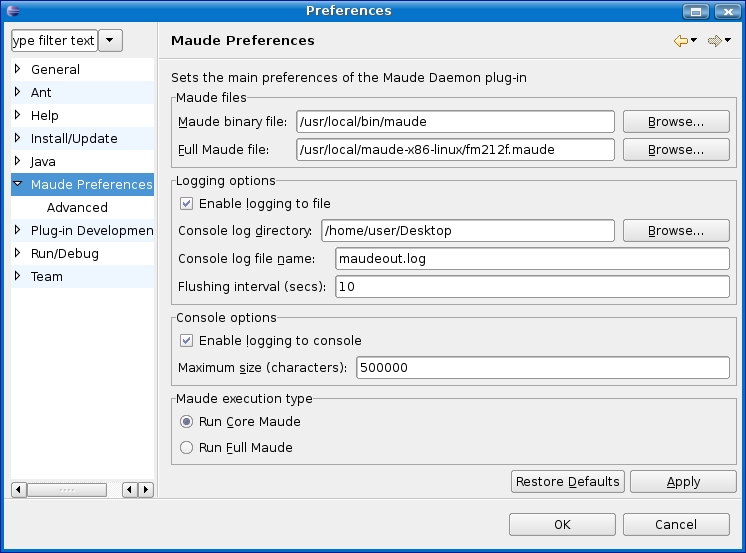 View of the basic preferences in a UNIX system.[1]
As the figure shows, there are four sections in this window, these are:
Maude files.

In this section you have to specify where are located the maude binary file and the Full Maude file. These fields are required to run Maude properly.

Logging options.

The Maude Development Tools can store a log file on the disk if the option "Enable logging to file" is active for debugging capabilities. You must to setup the directory and the file name where the log will be stored.

Moreover, if the option "Clear the log file before launching Maude" deletes all the contents of the log file every time you start Maude. This option avoids that this file grows indefinitely.

The last field of this section (Flushing interval) permits to specify the number of seconds that will pass between every forced update of the contents of the log file.

Console options.

A console integrated into the Eclipse interface can be activated. This feature is very useful for debugging when you use Maude in batch mode into you Java application. You can specify the maximum size of the console's buffer in the text field.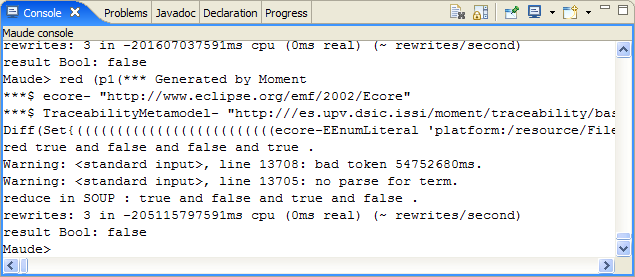 View of the default Maude console.
The user must select here if he wants to run Core Maude or Full Maude. When running Maude in batch mode, the developer can override this setting by means of the API provided.